Introduction
Our goal is to support teachers, administrators, guardians, youth groups, after school programs, amongst others, in guiding students through a discovery process that will increase students' understanding in science, math, and language arts by connecting them to plants, pollinators, food, and gardens by (potentially) creating habitat for pollinators. We say "potentially" because building a school habitat garden requires a real commitment. Planting the garden habitat is relatively easy, but making it grow, thrive, and survive several seasons is a commitment and a challenge.
We believe that getting children outside and into the garden is the most valuable part of this experience. But we are also realistic and we urge you to be, too.
More than anything, we want you to use the Bee Smart® School Garden Kit to help expose your students to new ideas about food, wildlife, and plants. It should also help students choose behaviors that support their own health, the health of the planet, and all its plants and animals. And we want the experience to be one that gives you fun, easy, and effective tools to teach and support your curriculum objectives.
We look forward to a bee-utiful learning experience together!
Overview
The Kit can be approached in 3 ways:
Using school land to create or augment a garden habitat
Using other demonstration areas to create or visit garden habitat
Using only in-classroom lessons and on-line experiences without a garden
Each Kit has components that can be used at school, at home, and online to maxi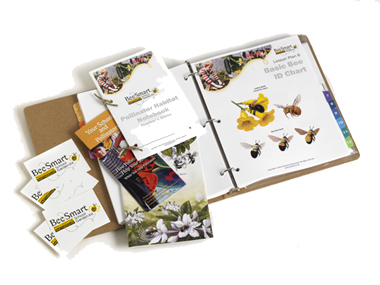 mize the learning experience. Although we know a diverse group of schools will be using this Kit, we have included the California School Standards at the end of each Lesson Plan as a point of reference. There will also be recommendations that will help connect community resources to the outdoor classroom. Each Kit will include teacher incentives from our partner, Burt's Bees, to reward teachers for helping students become more bee-conscious.
Target Audience and Goals
We have developed the Bee Smart® School Garden Kit for school administrators, educators, teachers, garden coordinators, and parents for use with students in grades 3 to 6.
The Bee Smart® School Garden Kit Includes:
Pre- and post-tests
10 lesson plans with accompanying reproducible worksheets
Materials for lesson plan activities
Reproducible handouts
Access to additional Bee Smart® School Garden Kit materials on the Pollinator Partnership website at www.pollinator.org.
Frequently Asked Questions
How do I get a Bee Smart® School Garden Kit?
Visit this link: http://pollinator.org/beesmart_give.htm
Is my donation tax deductible?
For your $150 donation, you receive a School Garden Kit valued at $100 – that is our cost to produce the materials alone for each kit. The remaining $50 of the $150 is tax-deductable as a donation to our work as a 501 (c)(3) non profit. It is tax deductable to the full extent allowed by law.
Do we ship outside of the U.S.?
Not at this time.
Can the shipping address be different from the billing address?
Yes, add your shipping address information under the "Add Special Instructions to the Seller" on the PayPal "Review" page when donating via credit card.

How long does it take for the package to arrive?
Within 2 weeks.
How will the package be shipped?
Priority United States Postal Service.
Can I rush the delivery of the Kit?
Not at this time.

Can I pay by check?


Yes. Send the check with a note included that this is for the Bee Smart School Garden Kit.
Make payable and mail to:
Pollinator Partnership
423 Washington St., 5th Floor
San Francisco, CA 94111
Photo Credits
Special thanks to photographer Marshall Gordon and artist representative Freda Scott for their contribution of Bee Smart® School Garden Kit photographs for use on the P2 website and outreach materials.
Legal
Disclaimer of Liability: The Pollinator Partnership disclaims, and recipients hereby agree to assume, all responsibility and liability for any damages or other harm, whether to recipients or to third-parties, resulting from recipients use of the Bee Smart® School Garden Kit.
The Bee Smart® School Garden Kit cannot be used for resale or reproduced without permission from the Pollinator Partnership.