Gardens
Building a strong garden team.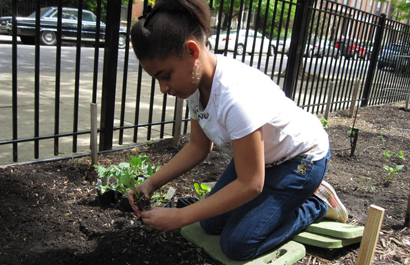 The Student Team
Students should participate in all aspects of the garden. They will gain a sense of purpose, accomplishment, and ownership of the garden by being part of the maintenance effort. Group students in pairs or threes and assign each team a specific task. This kind of team focus should be organized before leaving the classroom for a garden visit. Teams can each be doing jobs such as "Pollinator Observation," "Harvesting" "Watering," and "Unintended Plant Removal (weeding)," etc.


---
The Garden Coordinator
Ideally, the Garden Coordinator will be a paid position (if your school's budget can afford it), or it can be a voluntary part of a staff position or an interested caregiver. Whoever it is, the Garden Coordinator plays a key role in successful school gardens. This is the person who either recruits volunteers or arranges for garden preparation, plant, soil and seed delivery, planting days, maintenance schedule, and harvest.
The characteristics most critical for this position are that the person be well-organized, friendly, willing to get dirty, and work hard. Sound like a tough role to fill? That actually depends on your school and your situation. Remember our maxim – start small and only grow as need demands. It is far better to have a small garden that is well used and starts building enthusiasm in the classroom than to have an overly ambitious project that exhausts your support team. Be sure to encourage conversations with your school's landscape crew.

---
The Summer Team
As you work to establish your school's new garden, don't forget to ask for help before school lets out for the summer. Ask families to each sign up for a week of garden duty during the summer. Most weeks, they will need to visit the garden once to check if anything has been disturbed in the garden by animal or man, if the irrigation is working properly, and to harvest any produce that may have come in. If your garden is hand irrigated, families will need to stop by more frequently. Many families look forward to their garden week. Most do it in the early morning and enjoy their time together working with the plants. As the temperature dictates, watering in the morning and evening may be necessary.

---
Pesticide Education
What is a Pesticide?
A pesticide is a substance used to control unwanted plants, insect pests, rodents, or plant diseases. Pesticides include herbicides, insecticides, rodenticides, and fungicides. Of the pesticides, we believe insecticides cause the greatest challenge to pollinators. However, using proper application practices when applying any pesticide is very important in keeping people safe, too!
Children and Pesticides
Children are disproportionally affected by exposure to pesticides due to their rapid metabolism rate and high hand-to-mouth contact. Children often play in and around areas with pests and treated with pesticides, such as playgrounds and gardens.

Integrated Pest Management
Integrated Pest Management (IPM) is a collection of pest control practices that uses a suite of tools and reduces dependence on pesticides. IPM principles and practices can be applied both inside school buildings and throughout school grounds. IPM includes regular monitoring for early pest detection, taking action against pests only when necessary, choosing the most effective option with the least amount of risk, and applying biological principles to create lasting solutions.
IPM in School Gardens
Using the IPM guiding principles of knowledge, monitoring, least-toxic options, and continuous improvement, schools often save money and improve health by employing a few of the example IPM solutions below to keep pollinators and people safe:
Where possible, avoid pest problems in the first place by burying infested plant residues, removing pest habitat, and planting disease and pest-resistant plant varieties.
Carefully diagnose your pest problem, and, before you apply a pesticide, make sure the pest population has reached a level where control is necessary.
Carefully evaluate your pest control options, and use a combination of pest control techniques if appropriate – these may include beneficial insects, manual removal, traps, a pesticide, etc.
Plant native flowering plant species to support pollinators, choosing species that are naturally resistant to insect pests.
Many native pollinators such as bumble bees live in natural areas and also play an essential role in pollination. Be especially careful when trying to control pests in or near these areas. All butterflies start life as caterpillars, feeding on plants. Learn what type of insect is eating your plants before you inadvertently kill butterflies and other beautiful and beneficial insects.
While the steps above can reduce student and staff exposure to toxic agents, the best way to ensure that the school grounds are healthy is through the IPM Start Certification process.
IPM Star Certification for Schools
IPM improves pest management results and reduces liability and risks from both pests and pesticides. IPM STAR certification is a voluntary process that establishes your school's commitment to health and safety.
By working towards and achieving IPM Certification, your school will:
Establish a formal IPM program
Receive feedback from an IPM professional;
Build a professional image and create goodwill; and
Create long-term, sustainable focus on pest and pesticide risk reduction, ensuring that your school continues to improve.
For more information about pesticide safety, visit the IPM Star Program website (http://www.ipminstitute.org/ipmstar.htm)

---
Bee Sting Information

How to Avoid Getting Stung
Avoid wearing brightly colored or patterned clothing
Avoid walking barefoot
Avoid perfume or cologne when heading to a heavy bee area
Avoid sudden movements
Avoid leaving food goods, especially sweets, exposed
If You Get Stung
Most allergic reactions to bee stings include pain, and red swelling around the sting. Other common reactions include hives, nausea, dizziness, and a tight feeling in the throat. If these symptoms occur, the person needs medical attention immediately.

---
Resources
National Gardening Association (http://www.garden.org/)
California School Garden Network (http://www.csgn.org/)
Growing Schools (http://www.growingschools.org.uk/)
IPM Star Program (http://www.ipminstitute.org/ipmstar.htm)
Cornell University Department of Horticulture (http://www.gardening.cornell.edu/)
U.S. Fish and Wildlife Service Schoolyard Habitat (http://www.fws.gov/cno/conservation/schoolyard.cfm)
The Edible School Project (http://www.edibleschoolyard.org/#)
American Community Garden Association (http://communitygarden.org/index.php)
Monarch Watch (http://www.monarchwatch.org/waystations/)